KTC Education
Knowledge Transfer Center (KTC) is the result of a partnership between the supreme council of informataion and communication technology (ICT Qatar) and Oracle Systems Limited M.E in order to boost technology literacy to make the government work better for those who live and work in Qatar. Oracle has selected IT consultants, EMEA Enterprise Solution, an Oracle partner, to manage and operate the KTC environment.
Who We Work With
To give training a competitive edge we've established relationships with the world leaders in technology. They include ORACLE, MICROSOFT, CISCO and SYMANTEC. Through our alliances we ensure our training content is accurate and relevant. Our programs include various courses offered by the partners mentioned above and other technology related courses. We also facilitate training sessions with strategic partners to provide ideal training facilities and faculty. Together we identify relevant courses/product training and develop the related approved content. This result in a product that meets the client's needs in accordance with their individual and corporate goals.
KTC Mission
"Providing government employees with industry-leading skills and deep knowledge through technology so they can help build an information-based society in Qatar"
Developing Government in Qatar
The KTC will act as a valuable resource for government employees by providing an innovative place to learn and share knowledge to strength the government in Qatar. Participants get an opportunity to boost their careers, while the public benefits from a government that operates more efficiently.
The KTC is for government employees who want to:
Extent their business and technical learning experience.
Attain specific technical and business requirements and challenges to discover new ways of handling them
Share technology innovations, as well as knowledge and ideas about how technology helps the government operate smarter and better.
Client Benefits
Lowered cost as course delivery is done locally with accredited partners who understand
Local businesses and current requirement
Consistent delivered quality of globally standardized content
Trainers are practicing consultants and manager certified
Access to post course support services
Excellent comprehensive course ware couple  with quality teaching, delivered by world class technical instructors
Accelerated training and certification method of training involves hands on experience in a given technology
In house research and development department that ensures courses remain relevant by constant interaction with experienced professionals
Experience in implementation of large scale projects of scalable solutions in network consulting and software development and will provide experts support for your efforts.
Our Goals
To promote the highest standards of IT training by providing world class training within the region
Enhance customer's capacity to get the most from their investment in IT by increasing productivity through skills development.
To promote development and adoption of best practice guidelines by IT industry and consumers in the region
Maximizing efficient and productive use of technology by sharing experiences and expertise across all entities
ictQATAR and ORACLE to establish Knowledge Transfer Center
QATAR'S Supreme Council of Information and Communication Technology (ictQATAR) is partnering with Oracle Middle East to establish a Knowledge Transfer Centre in Doha to further build the technology skills of government employees and provide a forum for knowledge-sharing.
The Knowledge Transfer Centre will be maintained by Oracle and operated by EMEA Enterprise Solutions, an Oracle Partner, for the next three years.
The KTC will assist government entities by providing facilities and resources for the different agencies to share valuable information and experiences.
Through the centre, Qatar's government workers will have free access to more than 1,000 Oracle Learning Network (OLN) courses, which can be completed over the Internet.
The OLN courses are designed to build participants' technology competencies covering topics such as, database administration and web development.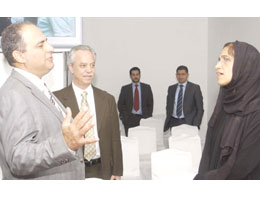 It will also offer professional courses to improve business and management skills.
"The Knowledge Transfer Centre will be a valuable resource for government employees, allowing them to gain and deepen their technology skills. It will help Qatar further develop as an information-based society," said Dr Hessa al-Jaber, ictQATAR's secretary general.
"This partnership with Oracle fits with ictQATAR's mission of connecting people to the technologies that will enrich their lives, drive economic development and inspire confidence in our nation's future."
Husam Dajani, senior vice president at Oracle Middle East said, "A key principle for ictQATAR is utilising technology to promote learning and skills development in Qatar.
Oracle has developed education programs aimed at helping people obtain applicable knowledge and skills that leverage our core competencies in information technology and the Internet.
The Knowledge Transfer Centre will enhance the technology and professional skills of government employees, creating a more productive workforce, while providing a forum for knowledge-sharing between the various government entities.
"At the end of the KTC's learning programme, government employees will have acquired new IT and interpersonal skills designed to enhance their performance and help their career development," concluded Dajani.
Government entities will be asked to nominate employees to take part in the KTC's programmes. After registering online and completing a skills assessment survey, participating government workers will be recommended OLN and other professional courses that address their needs. All courses will be accredited by the Knowledge Transfer Centre.